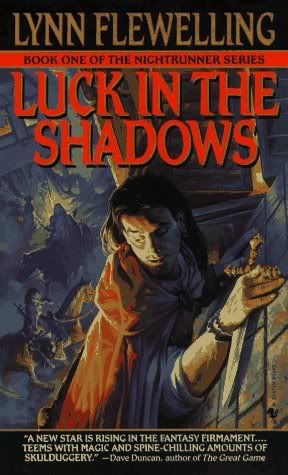 Title: Luck in the Shadows
Author: Lynn Flewelling
Series: Nightrunner
Rating: 4/5 stars
Review:
The novel opens with Alec of Kerry locked in a dungeon and being tortured for information. Though Alec is innocent of being a spy, his captors will not believe him. After a couple days of torture, a young bard is captured and thrown into the dungeon with him.
The young bard turns out to be Seregil, a spy and thief of sorts who helps Alec escape from the dungeon. Freed from captivity, the two steal a horse and try and get as far away as possible. While on their journey, Seregil offers Alec and opportunity - become his apprentice.
The novel was excellently written. The characters were both well rounded and deep. The plot kept me interested and had a few surprise twists in it.
It's a long novel, and I found myself wondering if it would ever end. Yet when I reached the end, I wanted more. Flewelling really grips you with her writing and leaves you wanting more.
Filled with secrets, thieves and treachery, this is a book I'd recommend to any fantasy fans. The novel isn't really YA, nor is it adult fiction, so it can work for both age groups.