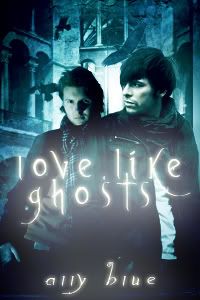 Title: Love, Like Ghosts
Author:
Ally Blue
Series: Bay City Paranormal Investigations
Rating: 5/5 stars
Review:
Love, Like Ghosts follows Adrian, a college student at UNC who is a little different than the rest. While most students would rather be out partying, he'd rather sit in his apartment and do his physics homework. Oh yeah, and he has psychokinesis, the ability to move things with his mind. Then he meets two people who change his world - Greg Woodhall, a theater major that he meets while constructing a haunted house and Lyndon Groome, a ghost who was murdered back in 1905.
Let me start out by saying that though this says it is book 7 in the Bay City Paranormal Investigations, it can be read as a standalone novel. Ally Blue's novel actually lists the novel as related to the series, rather than part of it.
Now, I read this book for the group read for October in the M/M Romance group and I was not disappointed. Once I started reading it, I couldn't put it down. I'm also extremely interested in reading the rest of this series.
The characters and their emotions were extremely real. The problems that they have and their reactions all are very well thought out and executed and could easily be a real story. (If psychokinesis and ghosts were real of course.) I would highly recommend this book to anyone who likes M/M Romance novels. Maybe even to some of you who don't. This isn't like those trashy two dollar romances you can buy at the drug store - this is a well written and thought out novel.
** Warning ** This novel contains sex scenes and may not be appropriate for readers under than age of 18.