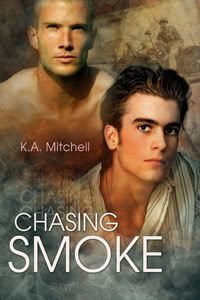 Title: Chasing Smoke
Author: K.A. Mitchell
Series: N/A
Rating: 4/5 stars
Review:
When he was 17, Trey Eriksson's father was accused of murdering his mother and then attempting suicide. When he had no where to go, the rich Gardner family took him in. That's where his relationship with Daniel Gardner began. Fifteen years later, Trey is still seeking the truth about what happened to his parents and he crosses paths with Daniel once again.
Once again, K.A. Mitchell has done an excellent job of characterization. Her characters a fleshed out and realistic. They have flaws and aren't cookie cutter stereotypes.
I enjoyed the side plot of this. I liked that it wasn't just a cheap romance with nothing but sex scenes. Rather, it had a mystery plot that was interesting and kept the reader wondering. The only thing I didn't like was that it was wrapped up too quickly and easily.
** Warning ** This novel contains sex scenes and may not be appropriate for readers under than age of 18.