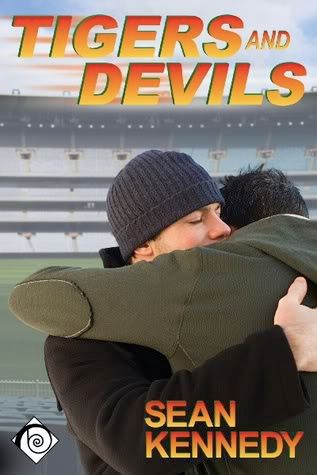 Title: Tigers and Devils
Author: Sean Kennedy
Series: N/A
Rating: 4/5 stars
Review:
When Simon's friends, Roger and Fran, drag him to a party, he never expects to fall in love. But that's exactly what he does. He meets Declan Tyler, one of the best football players in Australia. It's definitely not love at first sight for the two, but they start a relationship even though Declan is still in the closet. Eventually, the two are outed and you get to see the tolls that takes on their relationship.
Kennedy did a great job with his characters. Both Declan and Simon felt like real people. They both made mistakes and tried to fix them. When they were upset or mad, they acted just like real people would. Even the side characters were pretty well developed.
The plot of this novel was pretty good as well. It was a gay romance novel that wasn't sex, sex, sex. It also have a nice, romantic ending, but wasn't a cheap fairy tale, happily ever after, ending. At times it did seem a little bit long winded, but I did like it nonetheless.
Kennedy also did a good job of portraying the media. They acted just as they would in real life - like obsessed stalkers. It showed how much they invade privacy and twist things for their own benefit.
I highly recommend this novel to romance lovers. I like that it's also appropriate for younger readers since it doesn't have any graphic sex scenes.