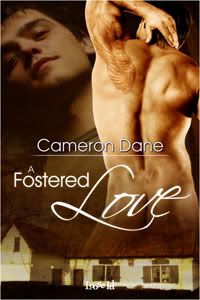 Title: A Fostered Love
Author:
Cameron Dane
Series: N/A
Rating: 4/5 stars
Review:
After fifteen years, Jonah Roberts finally returns to the foster home that he lived in for a couple months. When he was sixteen, he screwed up and ended up being sent to Juvenile Detention. But no matter what, the woman who ran the foster home, never gave up on him. Now, fifteen years later, he's returned to attend her funeral. When he comes back, he finds himself falling for Christian Sanchez - the boy he used to share a room with. Jonah knows Christian used to have a crush on him when they were teens and now he has to face that.
Dane did a great job with her characters in this novel. Both characters were unique and could've easily been real people. Her characters made mistakes and they learned from them, just as real people would. They both faced problems through out the novel - both internal and external.
The plot was good is used a good balance of internal and external conflict that didn't rely too heavily on either. I've got to admit, some of the scenes were sad and did make me cry a little. The flashback scenes were touching and gave us a glimpse into their past and what made them who they are. The story Dane paints is extremely touching - a romantic story that's not just about guys getting off.
I definitely recommend reading this novel. I'm glad it was the first book I read this year, and I'll probably read it again. Be warned though, though they are not related, this is a story about foster brothers falling in love.
** Warning ** This novel contains sex scenes and may not be appropriate for readers under than age of 18.