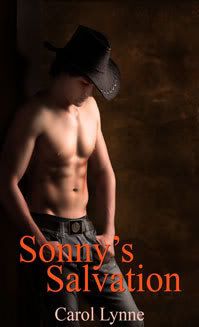 Title: Sonny's Salvation
Author:
Carol Lynne
Series: Good-Time Boys #1
Rating: 4/5 stars
Review:
When Sonny Good's father died, he left the FBI to return to Summerville, Nebreska and take over the family ranch. One night, while having dinner at the local bar, he meets Garron Greeley for the first time. Garron just moved to town to help his brother run the ranch next to Sonny's.
Though it was a little short, this was a pretty good story. I would've preferred it to be a little bit longer and their relationship a little more fleshed out. As it is, you only get to see a brief glimpse into their lives and not the full scope of their relationship.
The characters were all pretty interesting, not really stereotypes. It probably would've helped if Lynne had developed the side characters a little bit more and given them bigger roles. As it is, you only really get to see Rawley in a detailed way. The twins and Garron's brother only play brief roles.
Not deep literature by any means, but a good quick read. I recommend reading this if you're looking for something short and sweet to read.
** Warning ** This novel contains sex scenes and may not be appropriate for readers under than age of 18.