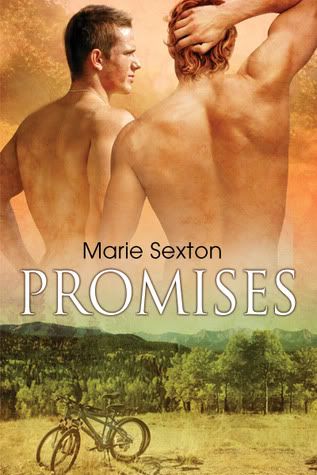 Title: Promises
Author:
Marie Sexton
Publisher: Dreamspinner Press
Series: N/A
Rating: 5/5 stars
Review:
I can't even begin to describe this one so I'm "borrowing" Dreamspinner's summary…
Jared Thomas has lived his whole life in the small mountain town of Coda, Colorado. He can't imagine living anywhere else. Unfortunately, the only other gay man in town is twice his age and used to be his teacher, so Jared is resigned to spending his life alone. 

Until Matt Richards walks into his life, that is. Matt has just been hired by the Coda Police Department, and he and Jared immediately become friends. Matt claims he is straight, but for Jared, having a sexy friend like Matt is way too tempting. Facing Matt's affair with a local woman, his disapproving family, and harassment from Matt's co-workers, Jared fears they'll never find a way to be together—if he can even convince Matt to try.
This is one of the best novels I've read in a long time. The plot kept me reading and wondering how everything worked out. There were a couple small plot twists I didn't see coming and kept things interesting. I loved seeing the way Jared and Matt's relationship developed through out the novel. I like how Sexton had a great balance of plot vs. sex. Her novel was first and foremost a romance novel, not a porno and I'm grateful for that.
Sexton did an excellent job with her characters. Both Matt and Jared were realistic and likeable characters that I kept wanting to know more about. Even the side characters like Brian and Lizzy were fleshed out and interesting. The only character I was really disappointed about not being developed was Matt's mother. I would've liked to have seen a little more of her personality.
I also have to say that I loved the cover for this novel. It gives a sweet and romantic feeling and isn't all about showing half-naked guys. It really fits how the characters love nature and bike riding and adds emphasis to the fact that this isn't primarily an erotica novel.
I highly recommend this novel to romance lovers. You really get to see their relationship develop and evolve over time.
** Warning ** This novel contains sex scenes and may not be appropriate for readers under than age of 18.