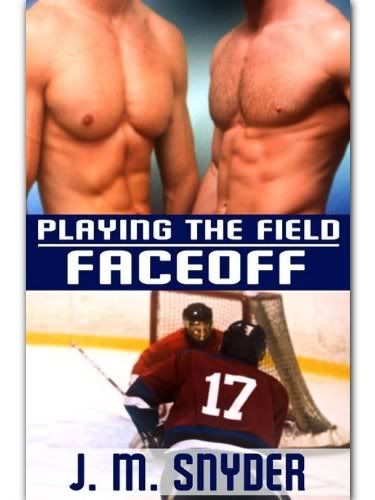 Title: Faceoff
Author:
J.M. Synder
Series: Playing the Field (Book 1)
Rating: 4/5 stars
Review:
Christian is a professional hokey player who wants nothing more than to play in the NHL. When he gets traded from the Richmond Rebels to the Bedford Blizzards, he sees it as just another step towards the NHL. The only person he tells that he requested the trade is his teammate and lover, Ronnie. Now, months later, the Blizzards are playing the Rebels and he still has no clue where Ronnie and him stand.
Since this is so short, the characters are kind of flat. They're not completely cardboard cut-outs, but you don't really get to see the depth in them. They do have some depth however, they're not just brainless hokey players (most of them) and as such, struggle with inner conflict and emotions. It doesn't really detract from the story and is mostly just a side effect of it being so short.
I love how Snyder handled the plot. Instead of lumping all of the backstory into one section, she used flashbacks to give us a glimpse into Christian's past. Alternating between the past and present was an excellent idea, and made this novel much more fun to read. She handled the technique excellently and it was easy to follow which time you were in, unlike some novels.
Over all, I loved reading this novel. Snyder had a good balance of plot and sex, and didn't try to overwhelm the reader with too much of either. No grammar or punctuation errors jumped out at me, nor did any large plot holes. I would definitely recommend this story to romance lovers.
** Warning ** This novel contains sex scenes and may not be appropriate for readers under than age of 18.