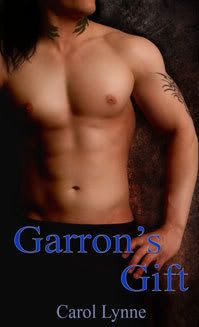 Title: Garron's Gift
Author:
Carol Lynne
Series: Good-Time Boys
Rating: 4/5 stars
Review:
Garron and Sonny are still madly in love with each other even though they're receiving a lot of trouble from a couple people in town. Sonny decides to take their relationship to the next level and asks Garron to "marry" him. Garron agrees and the two hold a small ceremony on Garron's birthday. That's when everything goes to hell. When leaving the ceremony on Garron's bike, Sonny is shot causing Garron to crash.
This was a pretty good book to read. Not only did it have a nice romantic plot to it, it also had a bit of a mystery plot as well. The thing that really bugged me most though, was how it kept alluding to the twin's relationship but never really told you anything. I'm assuming everything will be wrapped up with them in their book (Twin Temptations), but I would've liked to at least been given something.
I also would've liked a bit better of an ending as well. It leaves you with a cliff hanger and you have to read the next book to find out what happens. I don't really like it when books end that way since it reads more like a marketing ploy than anything.
Over all though, I did enjoy this book. It let me escape the stress of Christmas and easily forget all my problems. I recommend this book for readers who like a good amount of plot in their romance novels.
** Warning ** This novel contains sex scenes and may not be appropriate for readers under than age of 18.