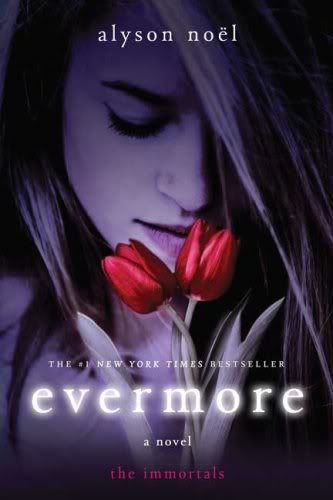 Title: Evermore
Author: Alyson Noel
Series: The Immortals 1
Rating: 5/5 stars
Review:
One day, Ever and her entire family are in a car crash. Her mother, her father, her little sister and her dog all die, but somehow she survives. And after surviving, she finds she has new talents. She can see people's auras, read their minds, see into the past and future, oh and she can communicate with her dead sister. Then Damen Auguste comes along and she finds out he has the power to cancel out hers.
I absolutely loved this book. I picked it up from the library this afternoon and finished it in a couple hours. It was engaging, well thought out and I didn't want to put it down.
The characters were pretty deep - not some cookie cutter stereotype. I do think we could have used a bit more depth with Ever's friends, but it wasn't too bad. I also liked the whole flower thing too. That was very romantic and funny.
Though the plot is a little cliched, Noel handled everything in a way that was unique and interesting. Looking back, and thinking about some things it seems a little cliche but it didn't seem so while I was reading it.
The only real fault I can find with the book is when Ever visits Disneyland. Magic Kingdom, is not in Disneyland nor is it in California. It's at Disney World in Florida. I think she probably should have done a little bit more research on that one. (But that might just be because I'm anal about things like that.)