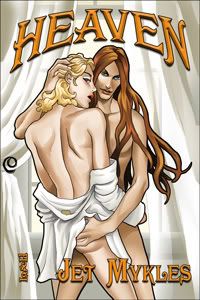 Title: Heaven
Author:
Jet Mykles
Series: Heaven Sent
Rating: 3/5 stars
Review:
Desperate to save his family's hotel, the Weiss Strande, Tyler and his best friend sink their hopes and what's left of their money into a new venture: a nightclub at the hotel. The White Room must succeed, or the hotel will go under. Against all hope, they manage to sign the mega-popular rock group Heaven Sent to play the grand opening. Already a huge fan of the group, Tyler couldn't be more excited to welcome them to his hotel. He's not at all prepared for the bomb of lust that hits him when he's finally face-to-face with the painfully gorgeous lead singer, Johnnie Heaven. Johnnie's probably the most beautiful person he's ever seen, but Tyler is straight. He's feeling a misguided form of hero worship, right? When Johnnie invites Tyler to his room to play video games, their shared passion, Tyler jumps at the chance. He and Johnnie have a great time with the games, but Tyler soon discovers that Johnnie aims to introduce Tyler to a whole new level of game play…
I'm really disappointed in the novel. It was highly recommend by a few friends, but ultimately it left a bad taste in my mouth. Johnnie was way too pushy. He pushed Tyler into doing things that he didn't want and wasn't ready for, yet he insisted that he knew best. Then Tyler magically ended up falling in love with Johnnie. It made me think of Stockholm syndrome.
The characters were perfect and they didn't really have any flaws. Johnnie was the classic rockstar who is perfect in everyway and manages to fall in love with one of his fans. That seemed a little cliché, but it wasn't enough for me to stop reading. None of the characters were really developed, I don't really care about them, nor do they seem realistic to me. The side characters were barely even touched.
Mykle's writing was error free, and there weren't any typos or continuality errors that threw me out of the book. I just wish she had developed her characters a little bit more and added some more plot. The "I'm not gay" plot gets old, quickly. Also, who the hell has sex during their father's wake? That's just rude, demeaning and disrespectful.
I'm not sure I'd recommend this, unless you enjoy books where not much goes on. It was really hard for me to get into this, but who knows, maybe you'll love it.
** Warning ** This novel contains sex scenes and may not be appropriate for readers under than age of 18.