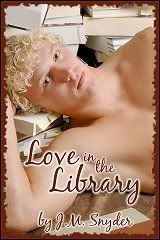 Title: Love in the Library
Author:
J.M. Snyder
Series:
Rating: 5/5 stars
Review:
For bookworm Johnny, a job in the library sounds like heaven. But after shelving books all night, he realizes it's not what he thought it would be. After the cart he's using gets jammed in the elevator, Adam comes to the rescue and it's lust at first sight.
This is a free read on Snyder's website and thus is pretty short. Normally I don't like short stories like this too much because you don't get to see the romance evolve but I really enjoyed this one. I liked how she had them start dating but didn't try to convince the reader that they fell in love in 22 pages. There weren't any major flaws that I could find - good grammar, spelling, punctuation, and good characters that didn't read like cardboard cut outs.
Snyder did a great job with this story. It's a sweet little romance teaser that leaves the reader wanting a full length novel. I'd love for her to take these two characters and expand on their relationship. The little glimpse into their lives that we get is sweet and romantic. I highly recommend this short read to anyone looking for a romantic read to relax with.
** Warning ** This novel contains sex scenes and may not be appropriate for readers under than age of 18.