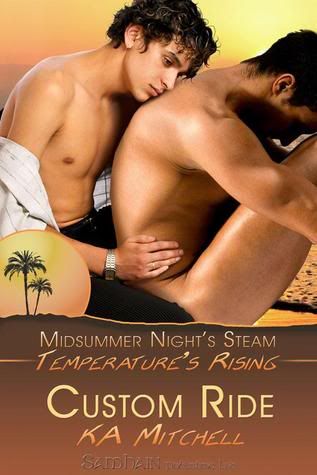 Title: Custom Ride
Author:
K.A. Mitchel
Series: N/A
Rating: 3/5 stars
Review:
Ryan doesn't normally do random hook ups. But when he hooks up with Jeff in a bar during Gay Pride Week, he discovers he wants more. But Jeff isn't out, and Ryan isn't interested in going back into the closet again.
First thing I didn't like was the lack of a lot of plot. 90% of this story was sex, sex, sex. There was a little bit of plot, but it could've been fleshed out a lot more. I wanted to see how their relationship evolved and developed over time. Instead, once they finally start working things out, the story ends. It was really disappointing.
Also, there is no way in hell two six foot plus guys are going to be able to have sex in the back seat of a Camaro. I drive a '94 Camaro and I can barely fit in the backseat by myself and I'm only 5'11.
K.A. Mitchell's writing is flawless though. She kept me interested and wanting to read more. Everything was well written and grammatically correct. I've love the way Mitchell describes everything so that you can picture it.
I recommend this story for people who enjoy erotic romance without a whole lot of plot. If you prefer a lot of plot and less sex, this story certainly isn't for you.
** Warning ** This novel contains sex scenes and may not be appropriate for readers under the age of 18.