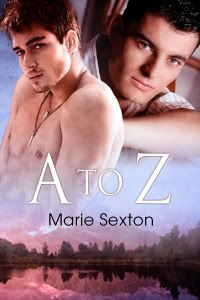 Title: A to Z
Author:
Marie Sexton
Publisher: Dreamspinner Press
Series: N/A
Rating: 3.5/5 stars
Review:
Zach Mitchell has been running A to Z video store for years. It's not exactly his dream job, but it's the only job he knows. When his new landlord Tom pays him a visit, he feels an attraction towards the man. But the only person who can see how bad Tom really is, is Zach's new employee - Angelo Green.
The plot of this novel differed from most romance novels. In most romances, we only get the story of the two main characters falling in love - often at first sight. This novel doesn't have the two characters fall in love instantly - rather, Zach is attracted to another man way before him and Angelo even really meet. It's refreshing to see Zach and Angelo's relationship evolve from that of friends and coworkers to a full fledged relationship, with all the bumps and pot holes in between.
I also enjoyed how Angelo wasn't the perfect lover. He came with a past and many problems along with it. Their relationship isn't happy-go-lucky and the two actually have to work to keep is going, much like a real relationship. The way Sexton describe Angelo and had him speak and act got on my nerves. She says in the novel that he's 27, however during the reading he felt more like he was 16. He had immature traits like a teenager, and certainly spoke and reacted like one.
I took a few points off my rating because of the shifting POV and tenses. I absolutely hated reading from Angelo's perspective. Normally I enjoy getting both sides of the story, but this time it got on my nerves. Angelo's POV was set in present tense, rather than past tense like Zach's was. The sentences were also choppy and made me feel like I was talking with a sixteen-year-old who was trying to act tough. The shifting narrative really kicked me out of the book. Zach's POV is easily flowing and had me absorbed in the novel, but when Angelo's came along it kicked me back out.
Overall I still enjoyed this book. If you've read Sexton's preview novel, Promises, you'll most likely enjoy this one too. As a bonus for fans, Jared and Matt from Promises appear in the novel for a little while. I would definitely recommend this novel to romance lovers, especially ones looking for a change from the normal formula romances. I'm certainly glad I took the time to read this one.
** Warning ** This novel contains sex scenes and may not be appropriate for readers under than age of 18.