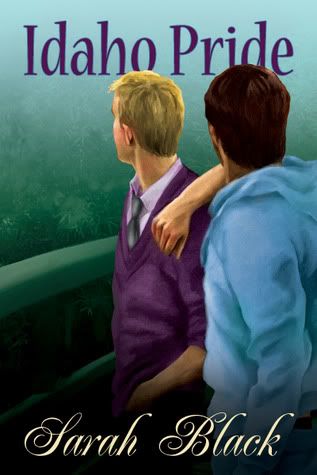 Title: Idaho Pride
Author:
Sarah Black
Series: N/A
Rating:5/5 Doves
Review:
After an attempt to diffuse an explosive situation, Lee Hunter and Jeremy Sheridan end up taking the heat for the conflict and become friends. While researching a tragic local story for Jeremy's magazine, Idaho Pride, Lee agrees to mentor Luis, a troubled young intern. But Jeremy has a problem of his own: a jealous ex-lover who threatens not only Jeremy and Lee's new romance, but also the fledgling family they're trying to create.
I loved the characters in this novel. Black was able to create two very different characters who both seemed real. They each had their own quirks and personalities and you could easily tell them apart. Even the side characters she created had a pretty good amount of depth to them.
I really enjoyed the plot of this book. It had mixings of a few different genres - romance (duh), suspense, and a little bit of mystery. For the most part, all of her plot ideas were fleshed out and meshed together well. Usually when I read a novel like this with multiple plots mingling, some of them aren't fleshed out, but Black managed to make all of her plots work and seem like they were straight out of real life.
The only real problem I had with this book was it wasn't long enough! There were so many things I wish she would've gone into detail about. I would've liked to have seen more about Captain McClain and his son, and the article for Idaho Pride. I also would've liked to see more about Julius - did he still try and convert BLANK or did he finally come to understand homosexuality?
Also, the blurb is very misleading. Jeremy's ex-lover wasn't that much of a threat to the relationship. In fact, there wasn't even much focus placed on him. The ex-lover is merely one of many plots instead of the main plot point like the blurb makes it out to be
The book was very well written and very much enjoyed. I would highly recommend this book for any fans of contemporary M/M romance. If you like your romance to have a good amount of plot in it, this is the book for you.
** Warning ** This novel contains sex scenes and may not be appropriate for readers under than age of 18.
You can purchase
Idaho Pride
at Amazon.com