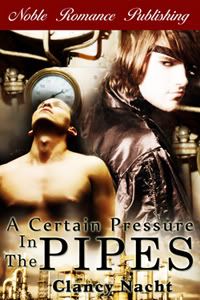 Author
Clancy Nacht
was kind enough to offer up her newest release,
A Certain Pressure in the Pipes
. Sorry for the delay at posting this one!
Also, don't forget that the giveaway for A.B. Gayle's
Mardi Gras
ends at Midnight EST tonight!
Story Blurb:
Conrad Lloyd's father, Governor of an old west town, wishes his son wasn't so interested in inventing, or men for that matter. It isn't until Conrad meets Ezhno, a Native American inventor, that Conrad thinks he can find sexual and intellectual fulfillment all in one man. Will they find their way together despite the societal and familial divide that threatens to keep them apart? Or will Conrad have to satisfy himself with his steam-powered Pleasuring Machine?
You can find out more about
A Certain Pressure in the Pipes
and read an excerpt on Noble Romance's
website
.
Contest Rules (Borrowed and modified from Stumbling Over Chaos <3<3):
* To enter, leave a comment stating that you are entering the contest. Contest closes Midnight EST on July 7.
* If you share this contest (on Facebook, Goodreads, you blog, etc.) I'll give you an extra entry for each medium you use, up to three extra entries.
* You must leave a valid email address with your comment. If you don't include an email address in your post or on your Google Profile, Chris's Blog Gnomes will turn your post into kitty litter for the Chaos Cat.
* Winners will be selected by random number.
* If a winner doesn't respond to my congratulations email within 48 hours, I will select another winner.
* If you win, please respect the author's intellectual property and don't make copies of the ebook for anyone else.
* This contest is open worldwide!
If you'd like to know more about Ms. Nacht, you can read her interview with
The Dancing Dove
or listen to her interview with
The Daisy Chain
podcast.