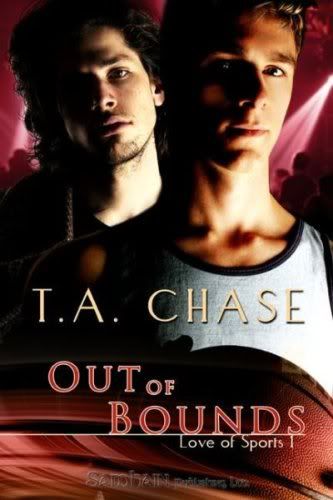 Title: Out of Bounds
Author:
T.A. Chase
Series: Love of Sports
Rating: 2/5 stars
Review:
Professional basketball player Kasey Johnson makes a point of keeping his sexual preference under guard and out of the public eye. Empty, off-season flings are all he can look forward to until he retires. He figures his secret is safe-until he meets Ingram Fletcher, a nightclub owner who ignites a passionate inferno in his body.
Gram has lusted after Kasey ever since the long, tall basketball player was traded to Phoenix a year ago. But with Kasey-s twin brother running interference, up until now Gram-s been unsure if it-s safe to make a play. Then some incidental contact in the crowded club leads to a kiss that starts Gram wondering if a relationship is possible-now, and beyond March Madness.
A romantic weekend together answers that question. Now the only one remaining is if Kasey is ready make a fast break out of his comfort zone.
The main reason I rated this book so low was the lack of plot. This was definitely more of a porn without plot book than a romance novel. There wasn't much romance, just a lot of sex and the characters magically falling in love. The sex started barely a couple pages into the story and continued for most of the book.
The plot that was there was very thin. Most of the scenes that weren't sex, were about Kasey whining about what would happen if his team mates found out he was gay. Kasey worries over this for a while and doesn't really do anything about it. Through out the whole novella, I really wanted to smack Kasey and yell "GET OVER IT ALREADY."
The characters were fairly one-dimensional. I don't really know anything about Kasey or Gram, I don't know any of their personality traits, their backgrounds, nothing. The relationships were really weak - the characters fell in love after doing nothing but have sex. Even the relationship between Kasey and his twin brother's relationship was week. You didn't feel the love between the two like you would between brothers.
This isn't a book I'd recommend unless you're looking for a book that doesn't have much plot. If you like your books to have a good balance of plot and sex, I would pass on this book.
** Warning ** This novel contains sex scenes and may not be appropriate for readers under than age of 18.