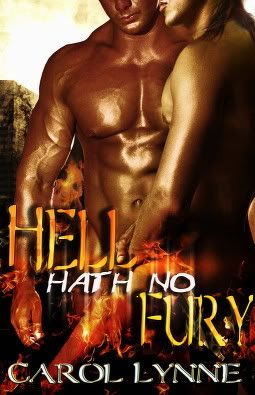 Today is the second day of Read an E-Book Week and I have another giveaway to announce! Carol Lynne was kind enough to donate a copy of one of her newer releases, "Hell Hath No Fury" for us to giveaway
Summary:
Mortals call it Hell, Lucifer calls it The City. It's a land of good and evil, and Lu is the mayor. He didn't ask for the job, but someone with some sense needs to keep order, and after going against Archangel Law, Lu knows he must pay the price.
Though his crime may have cost him his Heavenly home, when trouble shows up in The City, his brothers send Lu reinforcement in the guise of a good-looking bodyguard named Dominic Ramos.
Used to having any man he wants, Lu isn't happy when his charms don't immediately have the desired effect on Dominic. He sets out to seduce the gorgeous man using every weapon in his arsenal. When a night of unbridled passion culminates in a public coupling, Lu's feelings on random sex are forever changed.
Who says there aren't Angels in Hell?
To enter into the drawing, become a follower and leave a comment and let us know what your favorite or least favorite part of Spring is!
If you share this contest, you can also receive up to three extra entries. (One for each place you share it; Goodreads, your blog, LibraryThing, Twitter, etc.) Don't forget to include a link to where you've shared it!
Drawing ends March 13 at Midnight EST.