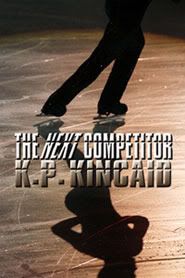 Sorry for the late post, I had to have a wisdom tooth pulled today so I'm a little scatter brained. I hope everyone is enjoying Read an E-Book Week! K.P. Kincaid was kind enough to donate a copy of
The Next Competitor
for me to giveaway today! Unlike the previous three I've given away, this one is YA!
Summary:
It's the all-important Olympic season and eighteen-year-old American figure skater Alex Grady is discovering that there are many obstacles along the way on his quest to win a gold medal. For starters, he has to get through endless hours of practice under the watchful eye of his stern and slightly terrifying Russian coach. Then he has to contend with his all-American rival, Tanner Nielsen. Tanner has the talent, looks, poise and picture-perfect girlfriend that make him the ideal poster boy for United States figure skating. Alex has the talent and his looks aren't bad, but the filter between his brain and his mouth is missing, and he definitely doesn't have a girlfriend. He doesn't have a boyfriend either, although he finds himself thinking far too much about pairs skater Matt Savelli, which is ridiculous, since goody two-shoes Matt is totally not his type. Besides, Alex doesn't have time to worry about dating, not with the Olympics looming, right? Can he find a way to go for the gold and still remain true to himself?
To enter the drawing, become a follower and let me know what your favorite Olympic sport it. It can be a summer or winter sport.
If you share this contest, you can also receive up to three extra entries. (One for each place you share it; Goodreads, your blog, LibraryThing, Twitter, etc.) Don't forget to include a link to where you've shared it!
Drawing ends on March 16 at Midnight EST.