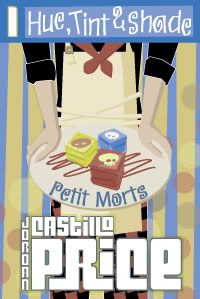 Today is the first day of Read an E-Book Week! Read an E-Book Week is from March 7-13. In order to celebrate, I'm going to be giving away a couple different ebooks each day this week! To find out more about Read an E-Book week you can visit their
website.
On their site, you'll also find information about different booksellers that are discounting or giving away books this week!
The first giveaway book was donated by Jordan Castillo Price! Ms. Price has offered up a copy of her latest release,
Hue, Tint and Shade
.
Hue, Tint and Shade
is the first book in the Petit Morts series that she is writing with fellow author, Josh Lanyon. You can find out more about this book and read an excerpt
here.
Summary taken from JCPBooks:
Asking for help can be a challenge for even the best of us, and so it's doubly intimidating for quiet, introverted Tommy Roth. An online exchange leads to a meeting with a psychic who assures Tommy that his naturally subdued aura is to blame for his timidity. Blue and violet tones are out, and shades of yellow and red are in!
Of course it's a bunch of baloney, and to make it worse, the intimidating shop clerk overheard the whole conversation.
Just when it seems like Tommy's life can't get any more dreary, a colorful character drops out of the sky. Nathan's so vivid, he seems to good to be true. Is he?
To get an entry into this drawing, become a fan of my blog and leave a comment here about what you like/dislike about ebooks.
If you share this contest, you can also receive up to three extra entries. (One for each place you share it; Goodreads, your blog, LibraryThing, Twitter, etc.) Don't forget to include a link to where you've shared it!
Drawing ends March 13 at Midnight EST.