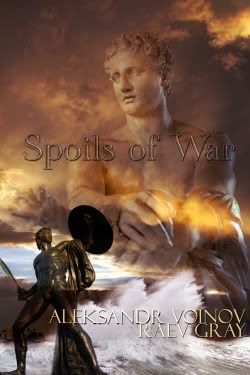 Read an E-Book Week is almost over! Have you guys read any good ebooks this week?
Today's ebook was donated by Aleksandr Voinov. Aleksandr is offering up his short story
Spoils of War
. You can read some reviews and an excerpt
here
.
Summary: When Achilleus, the greatest warrior who ever lived, falls before Troy (or Ilion, as it was known), Ares, God of War, stands ready to take his spirit with him to his palace. There, Ares demands that Achilleus yield to him. But can the embrace of a god and the offer of immortality make Achilleus forget his one true love, Patroklos?
To enter the drawing, become a follower and tell us what you've read so far this week!
If you share this contest, you can also receive up to three extra entries. (One for each place you share it; Goodreads, your blog, LibraryThing, Twitter, etc.) Don't forget to include a link to where you've shared it!
Drawing ends on March 16 at Midnight EST.